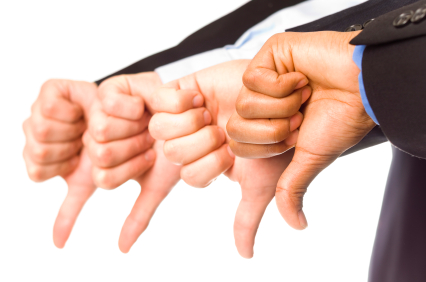 It is a little know fact that when a person is rejected the part of the brain that lights up is the exact same region that is responsible for registering physical pain. So if you are one of the people that thinks rejection is painful then I can assure you, you are not alone!
What you want to remember first and foremost is that rejection is not fatal. Having trained sales professionals for well over 15 years I have never seen one drop dead after hearing a rejection.
I think Sylvester Stallone said it best when he said;
"I take rejection as someone blowing a bugle in my ear to wake me up and get going, rather than retreat."

The good news is there is a simple process for ensuring you minimise the pain you feel from this day forward when someone rejects you.
All you want to do is understand what the word "no" actually stands for. It doesn't mean you are stupid or that you were unloved as a child. In fact it is almost never personal.
"NO" only means one of the following three things:
1. Not my values
The client may value things differently to you as in what is importnat to them may not be importnat to you and vice versa.
2. Wrong strategy
The client may need to 'see' the product but you just keep on 'telling' them about it.
3. You haven't sold me yet
You may not have identified their core needs yet or effectielty explained the logical and emotional benefits.
So now you can see rejection is not at all painful when you understand what it truly means.
Read more about: Sales